So Tuesday marks the end of my Audible Romance Package subscription. I fell off the wagon and got sucked back in to the land of YA. Then when I realized that I was running out of time to listen to ALL THE ROMANCE NOVELS IN THE WHOLE WORLD (or at least on Audible, and technically not all of them, just the ones in the package, but I digress), I went a bit crazy. I decided I should cram in as many as I could in the last 4 days, so this is the end result.
---
Stuck-Up Suit
by
Vi Keeland
My rating:
4 of 5 stars
This was a captivating, sexy read, but I let my inner-realist sneak in, which means I have one, all things consider, very minor complaint. Because overall, it's a compelling read, and I enjoyed the characters.
Here's the problem for me--any man who is that unkind to the people who work for him and that he sees in his every day life, does not magically become a kind man once in a relationship. I understand ruthlessness. I also understand putting up walls and not trusting people, but it takes the right sort of unkindness to be that awful and indifferent to people on a regular basis, especially in a professional setting.
Sure, it's possible to be happier and to more pleasant once in a relationship---for a while, but the one really crappy thing about all of humanity is that people are almost always the worst to the people who love them the most.
So I like Graham, but the author went overboard on making him a hurt and jaded man, because if he was as bad as he behaved in the beginning, then he would not have become the kind, pleasant, understanding guy he ends up being. There's not some magic switch that people flip. When you're shitty towards people on a daily basis, then you're kind of a shitty person. You don't just become something completely different overnight because you got hit with the love stick. It's just poor characterization in this instance, which isn't to say Graham isn't an interesting character. It's just that all the different things about him and how he acts, especially in the beginning, don't add up.
There are some small red flags here, for both abuse and control issues, and that's what makes me uncomfortable. Granted, they are very tiny flags and a pale shade of red, and the end result, is the author is in control, so Graham stays a nice guy. But I know that reality does not tend to work that way, which leaves me suspicious.
That's the only disconnect for me, and it's relatively brief, so I just brushed it off, because everything between Graham and Soraya is worth reading.
Book 352 read in 2018
Pages: 245
---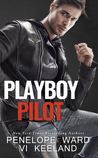 Playboy Pilot
by
Penelope Ward
My rating:
5 of 5 stars
Yep. I'll take a pilot. Just sign me right up, please and thank you.
Book 353 read in 2018
Pages: 300
---
Getting Schooled
by
Emma Chase
My rating:
5 of 5 stars
The author really does have a pretty solid understanding of the school and teaching world, especially in terms of all the weird, amazing, awkward, dramatic and unexpected things that happen in a school and with teaching staff on a day to day basis. I have to confess that pleases me, even though it obviously puts a more positive spin on some aspects of education and small town life.
Long story short, I liked it.
Book 354 read in 20108
Pages: 300
---
Faking It
by
K. Bromberg
My rating:
4 of 5 stars
This was fun and had a refreshingly different storyline. It falls into the fake relationship trope, but with a new angle, as the two become the spokespeople for a new dating app.
Also, the male lead is Australian, and who doesn't love an accent?
Book 355 read in 2018
Page: 286
---
Full Package
by
Lauren Blakely
My rating:
4 of 5 stars
This is a combo best friends to roommates to lovers story, so that's fun. I don't remember having a roommate ever being this much fun.
Book 356 read in 2018
Pages: 300
---
Hotter Than Ever
by
Elle Kennedy
My rating:
4 of 5 stars
Whew. Hawt. Addictively so.
Book 357 read in 2018
Pages: 348
---
The Big One
by
Anne Marsh
My rating:
2 of 5 stars
There's a quote right at the start of this novel that sums this up nicely--"Guy meets girl. Girl starts a fire. Boy falls in love. Sometimes it's as simple and as complicated as that."
Fireman. Yes, you heard me, and what more do you want?
Well, I actually wanted better character development and a more cohesive storyline. So this wasn't my favorite, but I finished it anyway. There were some interesting concepts here, but nothing ever really came together and all the humor fell flat, as a result.
Book 358 read in 2018
Pages: 172
---